A Chinese martial arts school in Eastern Canada offers Tai Chi, Qigong, Kung Fu, Wushu etc. 
---
TAI CHI, QI CONG

If you are primarily interested in maintaining and improving your health, we offer

Tai Chi

and

Qi Gong

classes that provide many health benefits.

Whether it's to practice Tai Chi strictly for health or a harder, more martial type of Tai Chi, we have both. With two highly skilled

professional Masters

at your disposal you can choose whichever suits your goals. Classes in the original Chen style Tai Chi, Yang Style Tai Chi, Wu Style Tai Chi, Qigong and push hands are all available.

Come and join us for a free introductory lesson.

Click here

for information on Tai Chi.

Click here

for information on Qi Gong

KUNG FU, WUSHU

If you are primarily interested in developing your martial arts abilities, we offer training in a number of martial arts styles such as

Wushu

,

Baji Quan

(Kung Fu), San Da, etc.

Our programs include Wushu, Jet Li style, Self-Defence & Kung Fu. For Wushu, we have different level classes to learn Wushu standard basics, Bare and (Chang Quan), Broadsword (Dao Shu), Straightsword (Jian Shu), Staff (Gun Shu) and Spear (Qian Shu). For traditional Kung Fu, you may join courses like Baiji Quan and application.

Click here

for information on Wushu.

Click here

for information on Baji Quan

Click here

for information on Self Defence
---
---
Spring Festival Party: Hello, 2017
Date: January 21 (Saturday), 2017Time:

18:00 – 20:00 (Try to arrive around 5:00 pm)

Program:

Lion Dance, Kung Fu, Wushu Taichi show, Pot Luck etc.

Address

:

377, 44e Avenue, Lachine, Quebec, H8T 2K5 (Map)

For more info about Party:

514-966-9878; sino_wushu@yahoo.ca
---
---
Push Hands: More Deep Feeling of Taichi and Qi !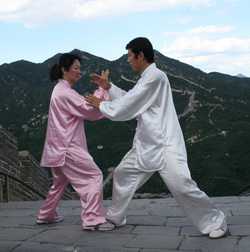 Good News
: In new session, you may come and try free trial classes of the Chen's Taichi Push Hands in
Lachine
,
Brossard
and
Pointe-Claire
.
Push hands
or
Tuishou
is a name for two-person training with single movement or routines practiced in Taichi and other internal martial arts. Push hands training let students learn how to respond to external force by using eight techniques of Taichi:
Peng, Lu, Ji, An
,
Cai, Lie, Zhou
and
Kao
.
Push hands classes are designed to learn and exercise the basics, different techniques with singel and double hands, in still stances or moving steps, in high or low position, and with or without force etc.
Everyone can join these special classes and enjoy these excited training, for health, self-defence or professional push hands competition in the future.
---
---
E-Shop: Chen's Taichi Videos Available for Beginners



Designed for Smart Phone, Tablet, PC, Macs and TVs.

Good News:

training videos for Chen's Taichi are ready to download. You may download and save the specific version into your smart phones, iPad etc. Now Masters will be always with you whenever you excercise any where. These videos show "Chen's Taichi Essential 18 Forms" step by step for beginners.

Master Leon Xu explains and shows each movement in simple way with front and side views. Beginners can easily understand and learn each movement faster.

Master Leon Xu, who owns 7th Duan of Chinese Wushu, is 12th Generation Chen's Tai Chi Inheritor, One of In-Door Disciples of Grand Master Chen Zhenglei. Check More Videos!
---

Chen's Tai Chi: Orginal Style!

Master

Leon (Li) XU

and

Aline (Qian) ZHOU

, 12th Generation Direct-Disciples of

Chen's Tai Chi (Taiji) Quan

, under Grand Master

Chen Zhenglei

, 19th generation of Chen's family and the 11th generation direct-line successor of Chen's Tai Chi Quan

Baji Quan: New Class in Montreal!

Master

Leon XU

and

Qian ZHOU

, 8th Generation Direct-Disciples of Wu's Baji Quan, under Grand Master

Wu Lianzhi

(left, in White Uniform), 7th generation of Wu's family style direct-line successor of Wu's Baji Quan in Meng village, Changzhou, China.
---
Contact Us